OK - so this is just a copy of the details from the Area 52 thread on Retro Rides, but it keeps everything here together if I start including full details of playdays etc....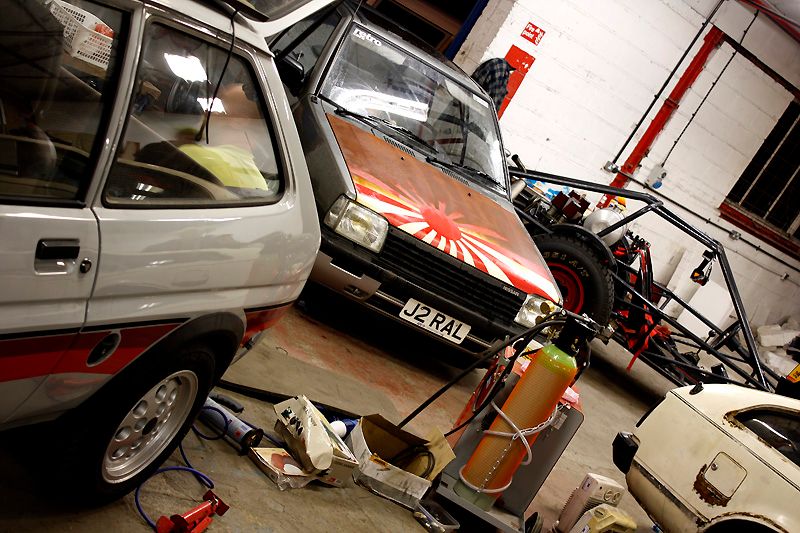 PlayDay 5 is just around the corner - Sat 9th and Sun 10th January to be precise. Codename: Ship-Shape & Bristol Fashion

This will be the perfect time to blow away those Christmas blues and get the old Retro Rides mojo back into full boost.....
The mission this time; to get the unit as fully operational as possible. There are loads of jobs that I need to do to make the unit more usable, especially for PlayDays, but with work and other commitments, it'll take me a long, long time to get them all done. I figured, why not use the old adage of 'many hands make light work' and try to use the whole weekender to accomplish all the tasks that would probably take me a good few months on my own.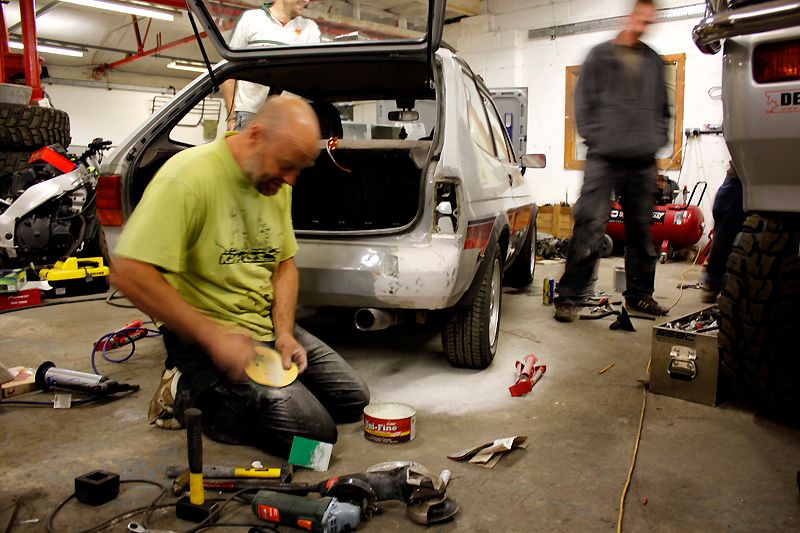 I hope that this will enable the unit to become more practical and easier to use. I have compiled a list of jobs that need doing and if we can somehow do all of them, then this will be a great acheivement and a massive benefit for the unit and all future PlayDays.
Here is the list - please let me know if there is any particular/specific task you would like to tackle? Please also let me know if there are any specific materials/items you are able to contribute to the weekend?
2 post lift:
remove swing out arms and grind out the stops to allow the arms to swing further back (time - couple of hours max)
2 post lift:
Remove all panels and clean/degrease the mechanism. Regrease all major parts (time - ?? prob a small team on this one?)
2 post lift:
Rub down and prepare all panels and parts of lift for painting. Paint lift in a nice bright shade of red or blue (time - 3-4 hrs with a few people on this)
2 post lift:
Refit all panels to lift when dry (time - 2 hrs max)
Sand blaster:
Get the sand blaster 'comissioned' and checking all is working well....making a list of any improvements that are needed to get it working any better (time - 2 hrs max)
Lighting/power:
Fit new conduit to lighting and adapt trunking to fit new wiring route. Refit all trunking caps to hide wiring in trunking (time - 3-4 hrs with a few people)
Worktops:
Cut & fit new wortops to fit along new workbench. These will need cutting to size (circular saw & jigsaw??) along with small cuto-outs at the back for power cables. Brackets will need welding to the workbench to screw the tops down tightly (time - 2-3 hrs with a few people)
Worktops:
Mount a vice and a drill to the new worktops. Spreader plates will need to be made to get these securely fitted (time - 2 hrs max)
Welding bench:
Make a fold down steel bench cover to allow one part of the workbench to be used as a welding area. A couple of hinges will need to be attached to the wall along with a catch to hold the bench cover up when not in use. Sheet of steel needs to be sourced for this (time - 2 hrs max?)
Shelving:
Put up some shelving in the entrance hall area so that the ever growing magazine collection finally has somewhere to be kept. Shelves will need to be well made and very well secured to the walls (time - 2-3hrs max)
Sink & hot water:
Rodit kindly donated a weater heater to the unit and Hairnet has very kindly sourced a sink/taps to go with it. I need to source a double kitchen unit to fit the sink & heater into and also find someone to kindly plumb it all in. I have a plan of how/where to route the pipes & waste (time - ???)
Water heater:
Having the new sink and water heater in the snug will make washing up a lot LOT nicer....but I'd like to keep the washing of grubby hands confined to the sink in the toilet/washroom. The water heater in there does not work so I need to source a new heater as near to free as possible so that hand washing isn't so unpleasant with the ice cold water (freecycle perhaps??)
Spray booth:
I recently bought a nice extractor. I would like to make some kind of spray booth so that items can be painted well. This will need to be made from some sheet material (ply/steel??) and constructed into a box approx 3' square with an open front and a means of moutning the extractor to the top. I've no further ideas at the moment - this is kind of a 'play it by ear' construction that would compliment the sand blaster....
Parts washer:
I have bought a parts washer and this simply needs to find a home in the unit and needs checking/testing once filled with a suitable washing/cleaning liquid
Window:
The small window in the corner of the unit is about to fall out. The frame is completely rotten and it needs pulling out and a new frame making. Nothing fancy - just a frame cut out of ply and bonded in would do the trick - with a few sheets of polycarb/perspex bonded to that. As simple as possible is the key - bodges are readily accepted. (time - depends on the level of bodgery??)
That's all I can think of from the top of my head but I will add any more things if I think of them?
The usual PlayDay things apply (most of you know the score by now!) if you haven't been to Area 52 before, please PM me for directions.
PLEASE bring plenty of bedding....better to have too much than get cold during the night. Hot water bottles would probably be a good idea for the Jan sleepover!
Food - it's the usual 'plenty of burgers, bacon, bangers and baps' kind of thing. Bring lots...as those who have attended regularly will testify, the volume of BBQ food eaten is a lot more than you'd think possible! Burgers generally seem to be the popular thing for keeping stomachs happy.
More recently, a lot of people have turned up with nothing and all chipped in a handful of dosh, sending two people down to the local Sainsburys for a 'group buy' of BBQ food, donuts, Doritos and dips.....plus copious amounts of beer ;D This system seems to work well especially for those staying over. Budget for around £10 on food (if staying for the day) or £20 for food & booze if staying over.
Off the top of my head, here is a list of all the things I need to source to make this all happen.....if anyone has anything from this list or knows where to get one for next to nothing, please let me know?
Water heater (the kind that fits to the wall with a long tap/spout that swings over the sink)
Largish sheet of steel (2-3mm thick) Approx 1m x 1m or similar size
Pair of hinges suitable for the welding bench
Kitchen cabinet (need to get size from Hairnets sink - usually either 800mm or 1000mm)
Bright red or blue gloss paint for painting the lift
Perspex/polycarb sheet for the window (I need to get the dimensions for this)
Chuck for the pillar drill that Butterz donated (I need to check the size of this)
Sheet ply/steel to make the spray booth from
Parrafin/cleaner for the parts washer
Various bolts for bolting things to the benches
Consumables like sand paper for rubbing down the lift, paintbrushes, white spirit, heavy grease etc....
Tools for tackling jobs - cordless drills, hammer drill, grinders, sander, jigsaw, circular saw etc.....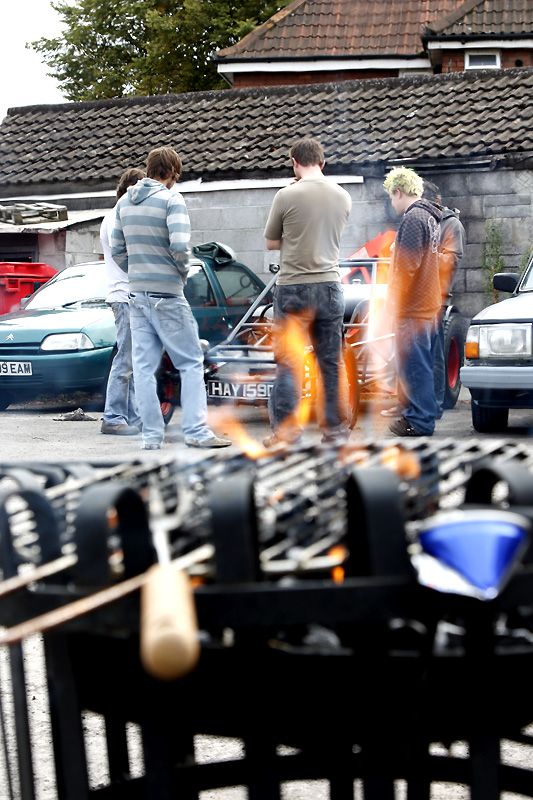 Many thanks for taking time to read through all this. Hopefully with a list of specific tasks and materials, the weekend will have a strong focus, allowing lots of progress to be made.
See you all on the 9th/10th